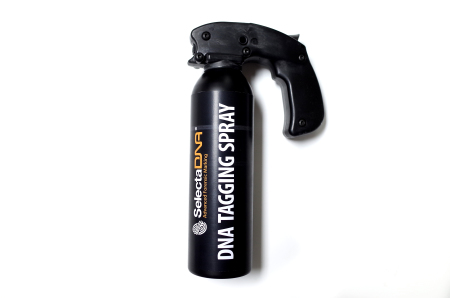 A DNA Tagging Spray used to deter and prevent personal attack and criminal behaviour.
SelectaDNA Tagging Spray is used to deter and prevent personal attack and criminal behaviour, such as moped and motorcycle enabled crimes.
The SelectaDNA Tagging Spray can be aimed by officers at suspected illegal and anti-social scrambler bikes, as well as at mopeds and motorbikes involved in other crimes such as robberies and smash and grabs. The DNA tagging spray marks the bikes, clothing and skin of any riders and passengers with a uniquely-coded but invisible dye that will link them to a specific crime.
How it works
SelectaDNA Tagging Spray is an offender marking spray that is used to deter and prevent criminal behaviour. The Tagging Spray works by spraying and tagging the offender with an invisible solution of unique synthetic DNA code and UV marker that clings to skin and clothing for weeks for days, weeks or even months. The forensic DNA allows the police to immediately link the suspect to a crime scene.
Suitable applications
SelectaDNA Tagging Spray is an ideal product for the police and law enforcement officers. It allows them to discreetly tag and identify an offender, providing forensic evidence that links them to the scene of a crime.
Identifying the offender
The solution contains a unique DNA code that is registered to the user and location. Police use an ultraviolet light to locate marked areas of skin and clothing, immediately linking the offender to a crime scene.
SelectaDNA forensic markers can also be detected by trained search dogs. In partnership with Search Dogs UK, the dogs are the first in the world to be trained to sniff out SelectaDNA markings and have already assisted many UK police forces.
Please note: This product can only be purchased by Police forces and essential training is required by all users to ensure the correct use of the Tagging Spray.
For more information, please contact Selectamark (Hong Kong) Ltd., on +(852) 2519 4356 or email info@selectamark.com.hk .